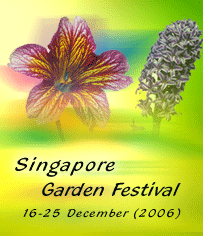 Singapore Garden Festival

This winter, the pulsating island city of Singapore is going to rock. Adding colors to the festive spirit is a floral fiesta of beauty and grandeur. The dynamic city is ready to inaugurate the much awaited international garden and flower show on the equator, after more than four decades of consistent and concerted greening efforts and establishing a hard-won reputation as the premier Garden City of the Tropics.
The festival will be running through Dec. 16 to Dec. 25, 2006 at Suntec Singapore International Convention & Exhibition Center. The ten-day event is envisioned to be the top flower and garden show in the Tropics. The Singapore Garden Festival is designed to capture the imagination and interest of the man in the street, the serious gardener and visitors of all ages.
The floral fiesta will gather award winning landscape and garden designers, florists, and horticulturists from the Chealsea Flower Show, Philadelphia Flower Show, Floriade (Holland), Melbourne International Flower & Garden Show, Laman (Malaysia) and many more and showcase their garden and floral creations under one roof. It is anticipated to draw over 200,000 visitors from around the world. Visitors can expect to see colorful and creative flower and landscape displays, featuring blooms that are not normally see in Singapore and this part of the world.
The Singapore Garden Festival will be more than just an exhibition. It will be a celebration and a festival, with activities and entertainment for everyone. For example, there will be a market place for garden and landscape products for aspiring gardening hobbyists to bring home plants and materials to augment their gardens, or to start new ones. There will be workshops conducted by experts to give gardening enthusiasts tips and ideas. All in all, it will be an event for all to enjoy.